2012-2014 Toyota Camry LE, SE & XLE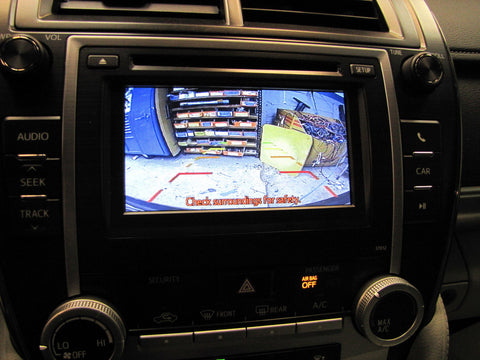 Did you know that your Toyota vehicle is likely already rear camera capable?
Unlock the secret that not even your Toyota dealer is aware of.
Most late model Toyota radios have the ability to display a rear view camera right on the screen, when the vehicle is shifted into reverse.
Retrofitting a rear view camera on your new Toyota could not be easier with our high quality kit.
This camera kit is ideal for mounting on your Toyota sedan or crossover.
Comes with our under lip camera for mounting above the license plate (just like factory!)
Compatibility chart:
2012-2014 Camry & Camry Hybrid LE, SE, XLE (without backup camera but with display audio)
No one comes close to our quality and price!  Others may imitate, but our Super CMOS camera with high quality lens and image sensor is simply the best in the industry.  Don't fall for cheap imitations!
Our Toyota reverse cameras are the highest quality in the industry.
Our simple two-wire connection and preferred installer network ensure that whether it is a do it yourself project, or professional installation, you'll be driving safer in no time.
Once installed, the reverse camera image will immediately appear on your factory radio's touch screen.  Our superior image processor ensure that you will achieve great performance day or night.  Our wide angle lens provides great perspective of your rear bumper for easy maneuvering during parallel parking or reversing.
Park guide lines are enabled by default, but can be disabled using the instructions included with the kit.
Each Toyota backup camera retrofit kit comes with the following:
High quality stud-mount under trunk lip Super CMOS rearview camera
Plug and play T-harness for input into the rear of your Toyota display audio or Entune system
RCA composite video cable
Instruction sheet
Buy with confidence:  our retrofit kits include a one year limited warranty.
Your satisfaction is guaranteed.  Live phone and e-mail support is available six days per week: Monday-Friday 9:00am-6:00pm, Wednesday 9:00am-9:00pm, Saturday 9:00am-3:00pm Just email support@toyotabackupcam.com or call us directly at (610) 734-1234