PG-TEC AutoKool CC-07 Console Cooler for Chevrolet & GMC Series 900 Trucks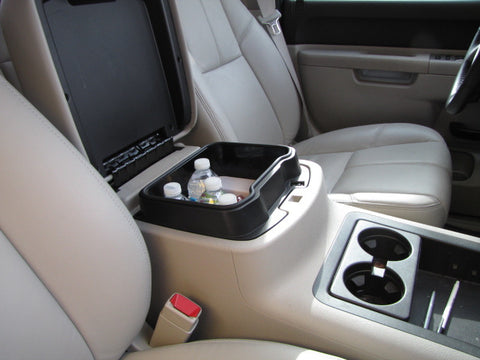 PG-TEC AutoKool CC-07 Console Cooler for Chevrolet & GMC Series 900 Trucks
AVAILABLE TO THE GENERAL PUBLIC FOR THE FIRST TIME!
DEALER INQUIRIES WELCOME!!
For more information please visit www.pg-tec.com
Whether you're a family out on the go, out on the worksite, or cruising down the highway, you can have cool refreshments, baby or medical supplies, or anything else you want to keep chilled right at your fingertips.
Keep it all in this large capacity thermo electric cooler that custom fits into your vehicle's existing console.
Specifically designed for the GM 900 series vehicles:
Tahoe

Yukon

Suburban

Denali

Silverado
Fits 2007-2013 models
Features include:
5-liter capacity

Keeps refreshments or other supplies cool on the go

Solid state technology (no liquids, no gases)

Quiet and safe fine-tuned fans for low noise

Operates on 12-volt DC

Low current consumption

Automatically shuts off within 30 minutes of vehicle shutdown

Easy installation